A Paradisiacal Retreat at The Grand-Hôtel Du Cap-Ferrat, A Four Seasons Hotel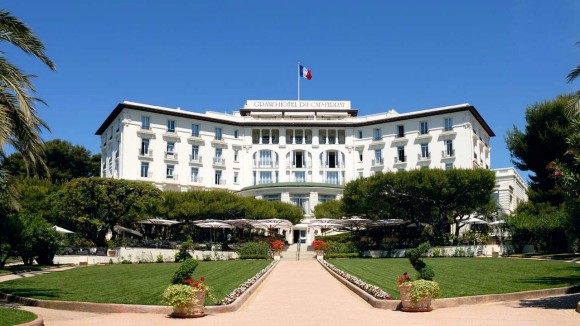 Saint-Jean Cap-Ferrat, France
 The Grand-Hôtel du Cap-Ferrat, A Four Seasons Hotel is a rare and exquisite seaside retreat of paradise housed in a palatial mansion on the Côte d'Azur, on the tip of the peninsula of Cap-Ferrat, amidst 17 acres of lushly landscaped gardens with panoramic views of the Mediterranean.
Steeped in history, this 105-year-old white Palace hotel is a long-standing meeting place for diplomats, socialites, aristocrats, actors, artists, writers and those with a passion for beauty. Fabulous gardens and the alfresco lifestyle are the hallmarks of the Grand-Hôtel du Cap-Ferrat, Hotel where the pleasures and treasures of Mediterranean living mingle. The Grand-Hôtel du Cap-Ferrat completed its 100th anniversary in 2009 with an extensive expansion project that celebrates the grandeur of the past and the beginning of a new era. The most prominent design elements are intended to provide guests with the experience of living in a well-appointed home rather than that of staying yet in another hotel. The use of beige Persian marble and white Calcutta cream marble throughout rooms and public spaces in addition to exquisite fabrics of white linen, natural silks in pastels and tones of beige and white maximize the effect of an abundance of sunlight, spectacular views of the sea and surrounding gardens.
The Hotel features 74 guestrooms including 24 suites, and a private villa, an award-winning Spa, fine and casual dining and one of the most beautiful pools in the world.
The historical building of the Hotel has 33 rooms and 16 suites and The Residence has 16 rooms and eight suites with a private swimming pool.
Guest rooms are spacious, bright and feature reproductions of art work from French artists, many of whom were local to the area and regular guests at the Grand-Hôtel, such as Picasso, Cocteau, Matisse, Chagall, Modigliani and Rodin. Ample closet space offers guests a comfortable experience for both short and extended visits.
Sea view suites in The Residence with floor-to-ceiling glass windows that open onto terraces with their own private infinity swimming pools are unique in France. These sleek and modern all white suites feature paintings by the contemporary artist Elisabeth Stein, reproductions of artwork by Matisse and white marble furniture custom-designed by Pierre-Yves Rochon.
Villa Rose-Pierre: The Ultimate Villa
The Villa Rose-Pierre is the ultimate villa on the Côte d'Azur for guests who wish to have the privacy of their own villa with all of the amenities and services of a palace hotel.
An enchanted haven situated on the sea amidst 2.5 acres of Provençal pine forest with spectacular views of the Mediterranean and surrounding landscape the Villa Rose-Pierre combines comfort, style and cutting edge technology. The Villa features a private infinity swimming pool with glow in the dark stars at the bottom that twinkle at night, a pool house, a private synthetic clay tennis court, a roof-top terrace with an elevator up to the roof for dining under the stars, Jacuzzis in all bathrooms and sea-view balconies in all bedrooms, fitness room with state of the art Technogym equipment, relaxation room and sauna, ping pong tables, bicycles for all guests, a high security alarm system and a team of seven staff (chambermaids, butlers and gardeners).
Mediterranean Flavours: Eating and Drinking at The Grand-Hôtel Du Cap-Ferrat
Experience the flavours of the Côte d'Azur. The Grand-Hôtel serves French Mediterranean cuisine at its best in a variety of environments. A state-of the-art kitchen produces fresh baked goods, the finest pastries, home-made ice creams and culinary specialties cooked to perfection. From casual pool side dining, elegant all-day dining under the cool shade of Aleppo pine trees to Provençal cuisine at its finest and dinner at gastronomic restaurant Le Cap (1* Michelin), the Grand-Hotel offers a variety of dining options to suit any mood or occasion. Head Pastry Chef, Gaëtan Fiard was awarded, "World Champion of Sugar Arts" in 2014; Gaëtan plays with the acidity, sweetness, texture, crispness and colour of ingredients and enhances their flavours using sea salt, lemon zest, fresh basil and other secrets.
La Véranda offers creative and authentic Mediterranean cuisine in a relaxed and elegant environment with views of the sea and surrounding gardens. A unique indoor experience for lunch and dinner with a garden theme takes advantage of large bay windows with magnificent views of the Mediterranean Sea just above the Aleppo pines. Lunch is served on the terrace during summer months. A mosaic floor and silk, floral sofas echo a garden theme and porcelain tableware in a white and pale green, Matisse-inspired floral motif has been custom designed for La Véranda by Pierre-Yves Rochon and produced by the legendary French porcelain house, Raynaud.
Special daily menus are recommended by the chef in addition to items on the menu which include: "Marinated Tuna Fish with Crystallized Vegetables," "Sour Chicken with Eggplant Caviar," and "Red Mullet Fish with Peas and Fresh Mint Tartine".
The Bar is situated adjacent to La Véranda and features Green Murano glass chandeliers that hang from high, palatial ceilings and an intimate library corner that is an ideal place for a drink and quiet conversation at any time of the day or evening.
Le Spa
Le Spa is a haven of peace and tranquillity, uniquely situated at the tip of the peninsula of Cap-Ferrat, overlooking the Mediterranean, amidst seventeen acres of fragrant Provençal gardens that complement the power of the sea and the warm rays of the sun in this Cote d'Azur sanctuary, solely dedicated to quiet repose and total indulgence.
This elegant Spa has a private 13,000 square feet garden with sea views features outdoor sundecks for relaxing and soaking in the sun before and after treatments; alongside the therapeutic massages and treatments, additional facilities include manicure and pedicure rooms, a boutique hair salon, indoor relaxation room and tea bar that serves herbal infusions and fresh juices. An outdoor gymnasium and exercise area allows guests to work out whilst enjoying views of the Mediterranean and the serenity of the surrounding gardens.
Young guests at the Grand-Hotel receive a children's welcome amenity, child-size bathrobes, children's menus, complimentary use of video games and access to the Kids' Club: an outdoor Children's Playhouse located in the Club Dauphin garden with views of the sea and a diverse offering of activities for children of all ages.
The Grand-Hôtel du Cap-Ferrat has received numerous awards and accolades throughout the past years. Le Spa has been awarded, "Best Spa in Europe" by Prix Villégiature and earned the Four stars of the Forbes Travel Guide 2017. Forbes also granted the Grand-Hôtel du Cap-Ferrat with Five stars (The Grand-Hôtel is the only Hotel and Spa in France outside Paris to receive these distinctions). In May 2011, the Grand-Hotel obtained the "Palace" distinction, exclusive to French Hotels that supersedes the five-star category.