Celebrate Cambridgeshire at Poets House Hotel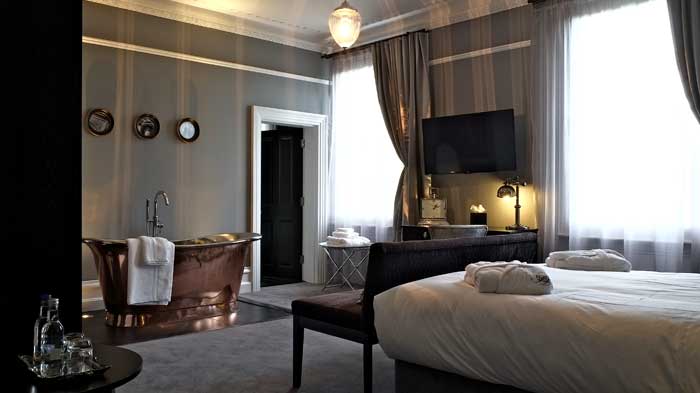 Poets House Hotel
40-44 St Marys Street, Ely CB7 4EY
01353 887777
B&B priced from £180.00 per room, per night Summer Boat Break (Available July, August and September 2017
The perfect break for summer is a trip to Ely, where you can explore and celebrate medieval and modern times, surrounded by a cathedral that stands triumphant over an award-winning hotel. Home to 21 bedrooms including eight master suites, the Poet's House Hotel, which has been awarded 4 AA Silver Stars, welcomes guests to explore the beauty of Cambridgeshire.
Poets House is the ideal place to celebrate all manner of events. The hotel is superb for weddings with the famous Ely Cathedral as a unique backdrop; the hotel can host up to 50 guests for weddings to include sole use of the courtyard garden. The hotel also offers two event spaces including 'The Writing Room' and 'The Boardroom' for more intimate meetings or private dining for up to 20 guests.
The hotel's design is contemporary and is home to a street facing restaurant 'The Dining Room', serving both traditional and modern British dishes with a twist and a contemporary modern cocktail bar facing the hotel's courtyard. Originally consisting of three Grade-II-listed properties of the early 1900s and the home of a renowned local author, today Poets House is a stylish award-winning luxury hotel.
Ely in Cambridgeshire is perfect for summer walks. The city has a beautiful waterside for strolls where you can discover the local countryside, and under the sunshine in summer, visitors can enjoy a serene boat trip along the River Great Ouse.
Another unique asset is Ely's Eel Trail! This walk invites walkers to discover the architecture and history of this small, quaint city. Ely's marshland and waters once contained many eels which were part of the local staple diet and you can still sample smoked eel at Ely's award-winning Farmers Market. The Eel Trail highlights around 18 local attractions starting at Oliver Cromwell's House and leading on for you to discover The Bishop's Palace, Ely Porta, Ely Museum, the antiques centre by the Waterside, and of course, the world famous Ely cathedral. Ely Cathedral perfectly dominates the skyline and sits just opposite Poets House Hotel. The Cathedral has been the set for many major productions and most recently appeared in the Netflix drama The Crown. Ely is no stranger to film stars and over the years these have included Cate Blanchette, Natalie Portman, Kristin Scott Thomas and Eddie Redmayne and others.  Throughout the summer months Poets House offer a package which includes a boat trip.
Poets House and restaurant is located just 17 miles from Cambridge and 5 minutes by taxi or a pleasant 15-minute walk from Ely train station with direct, regular train services, to London Kings Cross.