Corinthia Palace Hotel – A Beacon of Luxury in the Heart of Malta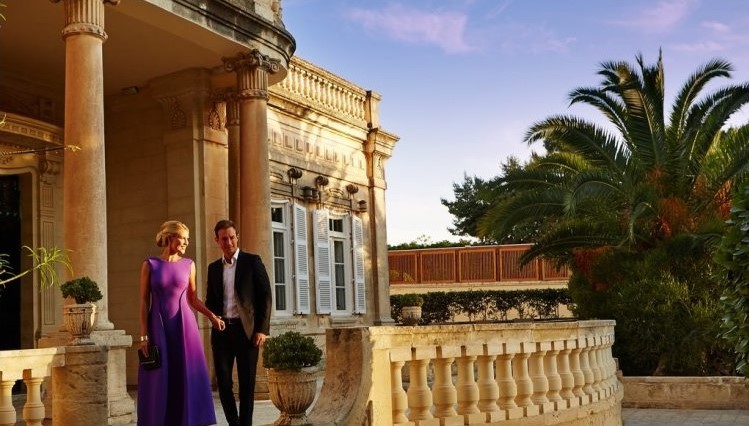 Whether you're looking for a (last-minute) summer holiday destination, a cultural city break or a foodie weekend getaway – Malta has it all! With history that spans 7,000 years, unique prehistoric temples, medieval towns and some of the oldest architectural designs in the world, on top of its breath-taking landscapes and clear blue waters, the small Mediterranean island is richly packed with things to do, see and discover.
The capital Valletta is brimming with grand architecture, hidden restaurants and picturesque back streets, but drive 8 kilometres inland and you'll find yourself in the chic residential area where Corinthia Palace Hotel is located. Peppered between traditional Maltese houses, the hotel is far removed from the island's touristy areas, whilst remaining perfectly connected.
The General Vibe
Opened in 1968, the 147-room hotel is the original flagship of Corinthia Hotels – a collection of five-star hotels worldwide. Stepping into the spacious marble foyer, you're greeted with a glass of fresh orange juice and the instant feel that the staff will do their best to help you with any request. The rooms are traditional, elegant and they all come along with a balcony overlooking the hotel's extensive gardens.
The Restaurants
With three restaurants to choose from – Asian, fine dining or a relaxed al fresco restaurant serving summer favourites, Corinthia Palace Hotel caters to most tastes.
With a menu that is a colourful mix of dishes from Thailand, Japan, Singapore and China, the award-winning Rickshaw restaurant takes you on a gastronomic journey to the Far East. From pork, cabbage and water chestnut gyozas, through to Singaporean frog porridge – the food is exotic, innovative and absolutely mouth-watering.
For an authentic Mediterranean meal cooked with sustainably sourced, local produce, or a quintessentially British afternoon tea, cosy up in the elegant Villa Corinthia restaurant, housed in a stunningly restored century-old villa.
If you're spending the day lazing around the pool, have lunch in Corinthia Palace's al fresco venue – the Summer Kitchen. Set within the hotel's lush gardens and overlooking the pool, the restaurant serves anything from fresh salads, grilled fish and meat, through to scrumptious pasta dishes and pizza cooked in their brand new wood-burning oven.
The Athenaeum Spa
With its stunning outdoor pool that calls for a relaxed afternoon of soaking up the sun with a good book and a cocktail in your hand and a spa that offers everything from a Jacuzzi and a sauna through to a steam garden, Corinthia Palace is the kind of hotel that you'll probably struggle to leave after breakfast. The extensive list of treatments and procedures at the Athenaeum Spa includes manicure, pedicure, bridal and evening make-up, tanning and 'healthy glow' treatments, as well as rejuvenating massages, anti-ageing, body exfoliation and detoxifying body wrap therapies.
And if you get a sudden burst of energy after a day of relaxation or like to start your day with a workout, the gym at Corinthia Palace boasts state-of-the-art cardio equipment, a resistance area and a studio with morning and afternoon classes, including pilates, yoga, and more. Private training sessions and tennis lessons with a qualified coach are available too in the hotel's own tennis court.
Rates at Corinthia Palace Hotel start from €180/night withbreakfast for a double room and from €330/night with breakfast for a suite. For more information, please go to: www.corinthia.com/palace