London Luxury has a Name – The Wellesley Knightsbridge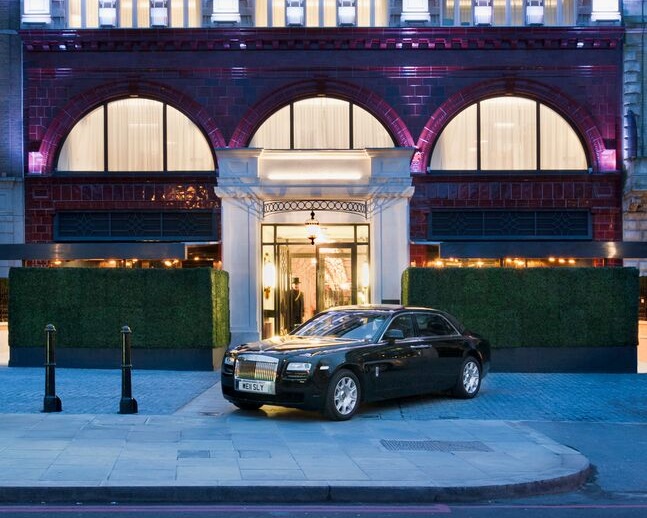 Off to London for a business trip or a week of sightseeing and looking for the perfect hotel that would combine excellent location and unmatched luxury? Belgravia is an area known for its upscale streets, elegant townhouse residences and opulent hotels. It is also the home of The Wellesley Knightsbridge – London's finest boutique hotel. Situated across the street from Hyde Park Corner tube station, the hotel's 36 stylish rooms and suites promise Art Deco glamour, contemporary luxury and views overlooking Hyde Park. 
Interior & Character 
Everything in The Wellesley screams opulence – from the bronze doors and the doorman welcoming you in the marble lobby with grandiose crystal chandeliers, through to the impressive service that combines polite charm and easy-going personality. The two restaurants are just as lush – typical traditionally British elegance paired with a sense of indulgence and exclusivity. With its innovative menu, the Jazz Suite is an ideal location for Afternoon Tea, whilst the dimly lit Oval Restaurant's Italian inspired menu guarantees a truly unforgettable fine dining experience. After dinner, move to the Crystal bar, but don't be fooled by its diminutive size – the drinks list includes an extensive selection of rare whiskies and cognacs, as well as cigars, which cigar enthusiasts can enjoy in the covered terrace. To mark its five-year anniversary, the bar recently launched a brand new cocktail menu that features drinks inspired by its signature offering.
Travel in style during your stay and let The Wellesley's Rolls Royce drive you to your desired destination.
Rooms & Suites 
All rooms and suites in The Wellesley have the decadent Art Deco feel to them that every little detail in the hotel boasts. However, the modern amenities you would expect from a five-star hotel in the heart London are of course all there too – electronically operated curtains, flat screen TVs (even in the bathroom), a tablet and a smart phone, as well as fast Wi-Fi. All bathrooms are marble and are finished off with vintage photos from Vogue and Hermes toiletries.
The Penthouse Suite 
The glamour doesn't end here – for the ultimate Wellesley experience, stay at the penthouse on the sixth and seventh floor, which can be enjoyed as a one, two and four-bedroom option. Part of the penthouse, The Churchill Suite boasts its own winding staircase, rooftop views, a spacious lounge area with feature fireplace, a private Humidor and Decanter Bar, as well as a butler, who will be on hand 24 hours a day.
Double rooms at The Wellesley Knightsbridge start at £329 per night; The Wellesley Penthouse starts from £2765 per night.