Rakuten Kobo Reveals the New Kobo Aura H2O: Advanced Version Of the Original Waterproof E-Reader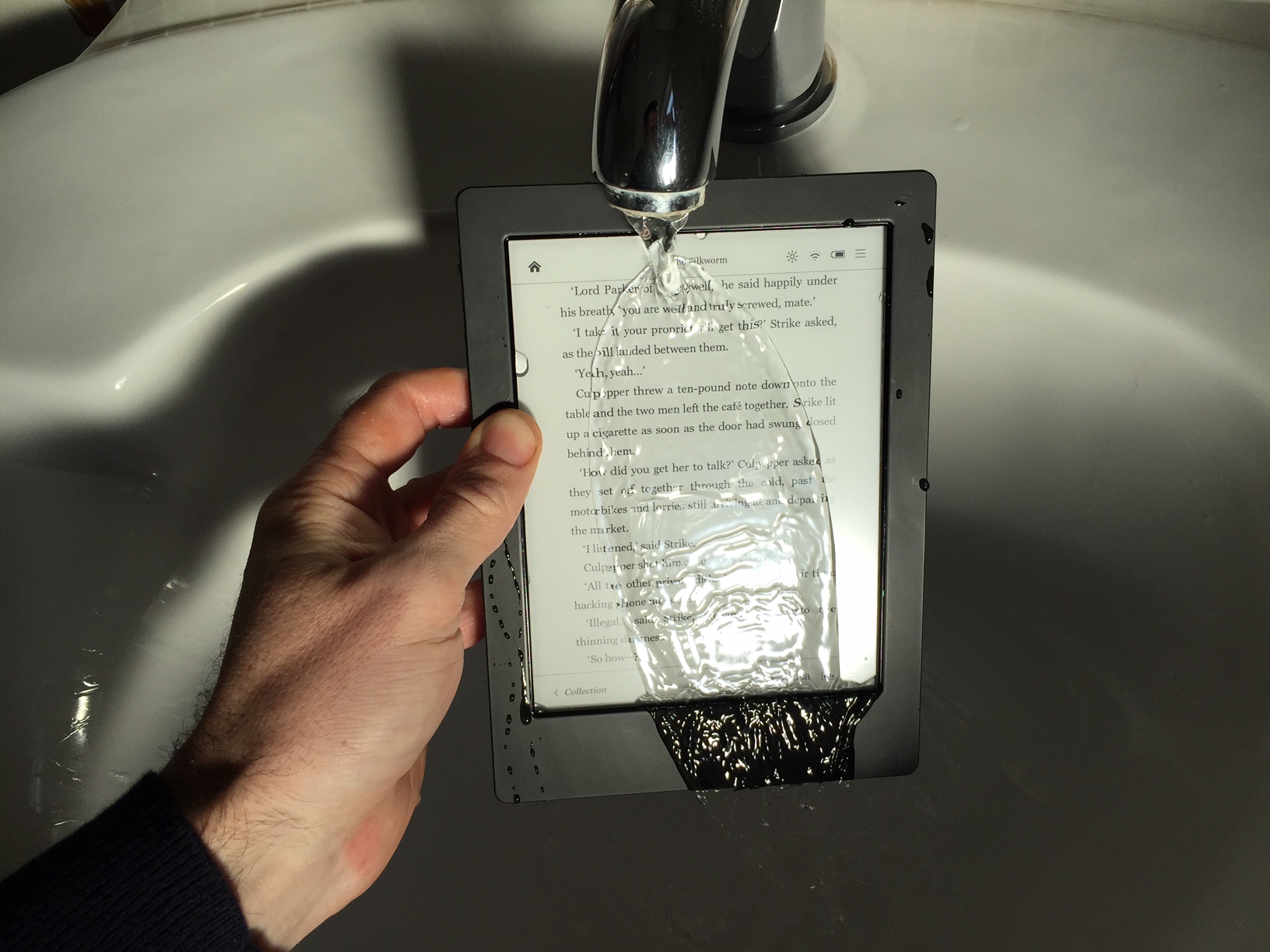 Just in time for summer, Kobo empowers passionate readers to enjoy worry-free reading wherever they go. Are you #BeachBookReady?
 Relaxing takes many forms, and many agree that reading is key, especially when it takes place near water whether in the bath, on the dock, by the pool, or at the beach.
In the service of relaxation and just in time for the summer reading season, Kobo, a global leader in eReading, announced its newest addition to the family, the new Kobo Aura H2O—an updated version of the original crowd-pleasing waterproof eReader. The new device allows booklovers to easily read in direct sunlight due to its anti-glare E Ink display, for a print-on-paper like reading experience. ComfortLight PRO reduces blue-light spectrum, so while nail-biting thrillers may keep you up at night, the new Kobo Aura H2O will not.
Typically, technology and water don't play well together, but this summer, they do. The new Kobo Aura H2O is the season's must-have accessory to let avid readers enjoy their favourite stories in more places—relaxing in the bath, by the pool, or while on seaside excursions. The device is waterproofed* with HZO Protection™ for worry-free reading near water. The coating technology applied to the device's interior allows it to be fully submerged without the need for port covers.
For night owls, ComfortLight PRO reduces blue-light exposure through the course of the day, so they can read even longer without it affecting their sleep. This innovative technology was introduced with the launch of Kobo Aura ONE last year, winning the seal of approval from Colleen Carney, Associate Professor and Director of the Sleep and Depression Laboratory at Ryerson University, who said devices that eliminate blue light work well for those who enjoy reading before bed; for more from Dr. Carney, click here.
Not sure which book to take on your daily adventures? Take them all. With 8GB of storage, the new Kobo Aura H2O stores up to 6,000 eBooks. A forgotten charger on cottage trips is no longer a cause for concern; with weeks of battery life, readers can enjoy a full book before needing a charge. The Freescale SoloLite processor ensures page turns are quick and seamless. What's more, the 6.8" Carta E-Ink touchscreen displays print-quality text beautifully (265ppi).
No two booklovers are alike, and a customisable reading experience is a must. With TypeGenius, readers have many options to choose what suits them best, such as weight and sharpness settings, and the ability to choose from 50 font sizes and 11 font types. In addition, they can adjust margins, highlight passages, write notes, or look up a word with the built-in dictionary—all with the tap of a finger.
Michael Tamblyn, CEO of Rakuten Kobo, says: "The new Kobo Aura H2O enables book lovers to read anywhere and everywhere they go—to make the most out of every day and while on their summer holidays. No splash, intentional or not, will dampen their reading experience. When I head out to enjoy the summer with my family, beach bags are always jam-packed with snacks, sunscreen, and countless other necessities, including books. This device makes it possible to take your entire library with you, without having to choose which story to take along; take them all and make the most of that much-needed 'me' time."
The new Kobo Aura H2O is available in black and will retail for £149.99 at www.kobo.com and select retailers; the device will also be available in the US, the UK, Italy, France, the Netherlands, Spain, Belgium, Switzerland, Japan, and Turkey; as of June in Sweden; as of July in Australia and New Zealand; with Philippines, Mexico and Brazil to follow later this year. For a kick-start on summer reading lists, Kobo's bookselling team has compiled captivating options to suit any reader's taste: https://www.kobo.com/ca/en/p/beachbookready