Rosewood London: A Timeless London Residence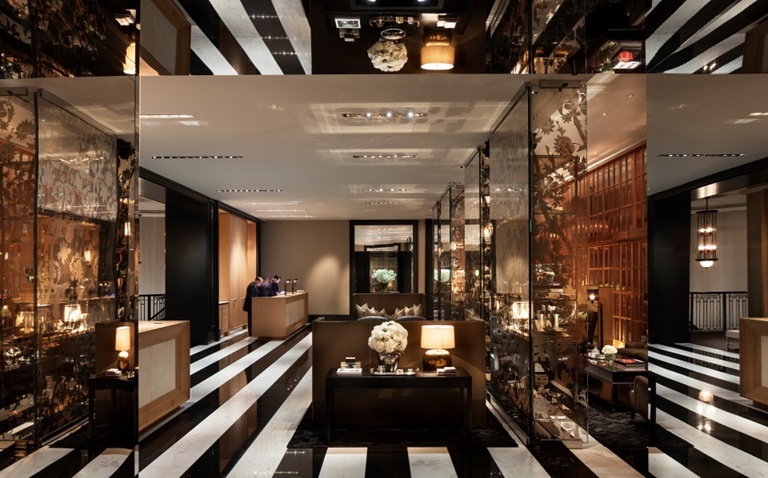 Rosewood London opened in October 2013, marking the presence of the Rosewood Hotel & Resorts brand in Europe. Within only a year, Rosewood London became the pioneering five-star luxury hotel in Midtown, winning eight prominent accolades, including "Best New Hotel in the World 2014" by Telegraph's Ultratravel, "Hotel of the Year London 2014/2015" at the AA Hospitality Awards and "Opening of the Year 2014" at the European Hospitality Awards.
Following a £85 million renovation to sensitively transform the 1914 Edwardian Belle Époque building, the original architectural features were painstakingly restored by an expert team of craftsmen, including the magnificent Grade II-listed street frontage and dome, and the grand Pavonazzo marble staircase which rises up through all seven storeys of the hotel beneath the 166-foot cupola. Guests enter via a grand carriageway which leads to a distinctive courtyard giving a sense of arrival more akin to a private manor house than a hotel.
Situated in the heart of Midtown on High Holborn, Rosewood London offers those coming to the capital for pleasure or business with easy access to both the City as well as attractions such as Covent Garden, the British Museum, the Royal Opera House, West End theatres as well as world-class galleries just a short walk away
The 262 rooms and 44 suites including nine signature suites, referred to as "houses," have been crafted from the finest materials and appointed to the highest standard to convey the feel of stylish London residences. The Grand Manor House Wing, one of London's most exclusive residences, welcomes guests via its own private entrance and is the only suite in the world to possess its own postcode.
Rosewood London is one of London's most exciting places to drink and dine with an assortment of culinary experiences to suit everyone. The bustling brasserie Holborn Dining Room is handled day-today by General Manager Julien Foussadier and serves classic British dishes with a twist throughout the day.
Holborn Dining Room is also home to the Gin Bar offering London's largest collection of Gin. The Gin Bar features over 400 Gins and 27 tonics, including its very own signature tonic, made in-house using a topsecret recipe.
Transformed by award-winning, landscape designer Luciano Giubbilei, The Terrace enables guests to savour unique food and drink offerings reflecting the flavours and ingredients of each British season in a luxurious garden setting. The year-round garden terrace offers guests unique dining and drink experiences inspired by the British seasons. Cosy up in a sumptuous blanket on the heated benches while sipping on hot toddies, hot buttered rum, spiced Somerset cider, mulled wine and British whiskeys, accompanied by cigars to match. Surrounded by lush greenery, The Terrace evokes the design of a quintessential English garden with seasonal flowering plants in textural woven willow baskets highlighting the British craft heritage.
Classically pruned London Plane Trees form the overhead greenery and soft glow lighting offers a subtle backdrop enhancing The Terrace's privacy and intimacy. Scarfes Bar, named after the renowned British artist and caricaturist Gerald Scarfe whose original artwork adorns the walls, evokes a convivial atmosphere akin to a sophisticated gentleman's club. Guests will enjoy a lunch menu of spicy curries and kebabs infused with exotic Indian flavours. The creative menu of cocktails, complimentary live jazz seven nights a week and monthly immersive cabaret make Scarfes Bar a must-visit, vibrant entertainment destination.
The stunning Mirror Room, tucked away in the heart of Rosewood London offers innovative and refined seasonal dining by Executive Chef, Amandine Chaignot and a decadent afternoon tea. The tradition of British tea is taken to new heights with the opulent jewel box design and floor to ceiling mirrors.
Rosewood London's Sense spa is the epitome of style and tranquillity. Available to hotel and non-hotel guests, this urban retreat features bamboo walls, soft lighting and wooden walkways over rippling water and pebble stones. Experience five-star hair treatments from award-winning and celebrity stylist Matthew Curtis within an intimate and boutique style salon at Sense spa.